Do You Have a Ramp and Need Tips on Maintenance?
Things to know about maintaining your ramp
Aluminum Ramp Care
Modular aluminum ramps have many bolts and screws; they can become loose over a period of time. The legs may settle due to soil conditions.  If you have one of our rental systems installed it is important that you call us immediately should parts become loose or if settling occurs, our phone number is 248-246-1669. We will send a technician to your home to make any required adjustments.
Winter weather may cause your ramp to become slick. The ramps are manufactured with a ribbed surface witch under normal conditions provides great traction. If the ribs fill with snow and ice the ramp like any other surface will become slippery. Normal care would be to keep the surfaces free and clear of ice and snow buildup by shoveling or sweeping snow and then applying calcium chloride to the ramps and platforms. If you have any questions please call us at 248-246-1669.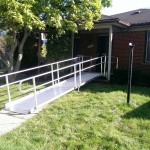 Wood Ramp Care
Wood ramps when constructed by CAPS Remodeling are built with a rolled mineral surface attached to the sloped surfaces. Under normal conditions this provides great traction. Snow and ice if not removed can cover this surface and like your sidewalks and driveways can become very slippery. We recommend sweeping the snow off and using calcium chloride to keep walkways clear. Shoveling may cause the mineral roll surface to tear. We recommend using extra care when shoveling to prevent ripping or tearing.
Ramps should be cleaned and sealed to prevent premature deterioration. Ramps should be allowed to dry thoroughly after construction; depending on weather conditions this may be as short as a couple of days and even up to a year.