The Stylish Bathroom Conversion
Jeff Cates
Barrier Free Remodeling
,
Bathroom Remodeling
,
Bathroom Safety
,
Easier Transfer
,
Grab Bars
,
Handicap accessible bathroom for wheelchair
,
Home Access Modifications
,
Home Access Modifications
,
independent transfer
,
Non Slip Coating
,
Non Slip Coating
,
Safety Rail
,
Slip resistant floor
,
Slip Resistant Invisible Tread
,
Slip resistant tile
,
Southeast Michigan Barrier Free Remodeling
,
Tub Transfer Bench
,
Universal design
,
Wetrooms
0 Comment
Wet rooms are a zero barrier free option for your bathroom. Converting your bathroom into a wet room means you can enjoy a shower, whenever you like, and independently.
We have products that go nicely with wet rooms such as grab bars. We can help you to place these in the best position and ensure they are securely fixed to the wall. We can also put on non-slip coating to help prevent falls!
Finally, there is a wide variety in floor colors and tiling, so you can design your new wet room in your own individual style. Converting your old bathroom into a wet room also can help you to save space if you only have a small bathroom. You don't need to have a shower cubicle, which can constrict movement in a small room. Not only can you bathe independently but you do not have to worry about getting stuck in a bathtub!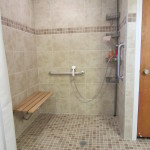 If you are looking for a safe and stylish upgrade to your bathroom, a wet room is your answer.  It creates a bathroom perfect for those with limited mobility who wish to enjoy the freedom of living comfortably at home.