Grab Bars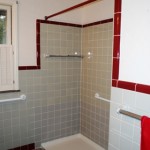 Grab Bars
Finding a contractor familiar with grab bars and handicap accessible home construction can be a real challenge for anyone!  At CAPS Remodeling, we have significant experience with the installation process of grab bars and will install the accessories wherever you need them.
We offer a wide selection of styles, textures, and finishes for grab bars – from basic bars to designer finishes that will match any decor. We furnish and install all accessories and our professional grab bar installation is guaranteed.
These accessories are not just for the elderly or physically challanged. Our grab bars can help anyone stay safe.  Whether you are transferring from the shower and need something to hold onto, or need a little extra push off of the toilet commode, our grab bars can help you by lifting you up wherever you are in the bathroom. They will provide a great deal of comfort and safety for any and all users.
If you are trying to make your home more handicap accessible then grab bars are a great solution and a wise addition to your remodeling project.  Our expert design and installation team have brought safety and security into thousands of homes in the Detroit Metropolitan area. We can do the same for you. We have significant experience in developing handicap friendly bathrooms, have Certified Aging in Place Specialists on Staff, and offer a full line of ADA compliant products from leading vendors such as Kohler, American Standard, and Delta.
Need installation right away? Most installations take less than an hour. To get your grab bars installed today, call us now at (248) 246-1669.  We will set up an evaluation and find out how we can help you optimize your abilities.