Wheelchair Ramps
Wheelchair Ramps For Home
Make Your Home Handicap Accessible
Wheelchair ramps bring accessibility to those who need a way into and out of their home with their wheelchair, scooter or walker. At CAPS Remodeling, we offer a variety of wheelchair ramps that are configured to meet or exceed Americans with Disabilities Act (ADA) guidelines. We our dedicated to providing handicap accessible ways so that you may be able to safely and economically have access to your home.
CAPS Remodeling services throughout the entire State of Michigan. Our skilled and expert team of installers and carpenters can install your ramp in as little as one day.
Our wheelchair ramps for home are manufactured using heave gauge aluminum or top quality pressure treated lumber and the ramp surfaces are textured to give better traction in the snow and rain. Dependent on you need, CAPS Remodeling has a wheelchair ramp solution for you. Our line of handicap accessible ramps includes: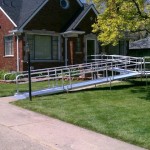 Modular Aluminum ramps: These ramps area available for rental or permanent situations. The ramps are built to meet you specific needs as they can be set up in multiple configurations and be removed or relocated to be used elsewhere. They require little or no maintenance other than periodic cleaning.
Permanent Wood Ramps: Wood ramps are best for long term permanent situations. They do require periodic cleaning and staining. If properly maintained they will last over 30 years.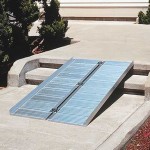 Aluminum Suitcase Ramps: These ramps can be permanently mounted or removed and folded for easy storage. If you are looking for a lightweight solution when you only need to go up a few steps, a suitcase ramp is what you need
Whether you need a permanent ramp, a modular portable ramp or even a ramp to help you get over small barriers in the home such as a raised threshold doorway, CAPS Remodeling can help you.
Call today at (248) 246-1669 for your estimate. We have Certified Aging in Place Specialists on staff, and will analyze your situation, design the right wheelchair ramp to fit your needs and in most cases install it the very next day. We have a wide variety of ramps to fit your needs and we will buy back any of our aluminum ramps if conditions change and you no longer need it. Call now!